• anti-vibration • bar riser • handlebar • motorcycle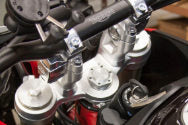 Are you dealing with hand tingling or numbness while out riding? Do you feel like too much of your body weight is on your wrists, hands, and shoulders? Does your neck get tight on longer trips? The Rox Anti-Vibe Bar Risers are designed to solve all these issues and more. Using the proven design of our patented Pivoting Risers, we've taken it to the next level by adding rubber isolated bushings that reduce bar vibration by as much as 80%. Nothing is worse than having to cut a trip short because of discomfort. Pick up a set of our Anti-Vibe Bar Risers and improve...
---
• bar extensions • barbacks • ergonomics • handlebar • risers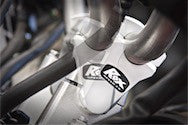 We get calls daily from people who want to adjust their handlebar position but they don't know where to start. It's really simple. To install risers on your motorcycle or atv you need to know 2 things: What is the diameter of your stock bar? Common sizes are 7/8" and 1 1/8" for dirt bikes, dual sport bikes, many street bikes, and atvs. For Harley/V-Twin bikes common sizes are 1" and 1 1/4". Standing to the side of the bike/atv, simply grab a ruler [or a caliper] hold it up above the bar (near the bar clamps) and check to see what the measurement is going across the...